Environmental Justice
for your Neighborhood.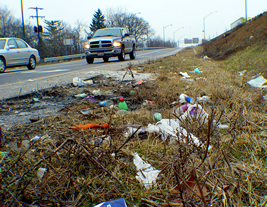 Report Littering
Think locally. You can help do your part to keep our streets, neighborhoods and green spaces clean and beautiful by reporting littering. Report Littering. It's a crime.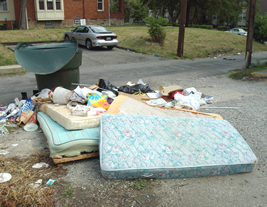 Report Illegal Dumping
Open dumps are often found along secondary roads, utility right-of-ways, water courses, on abandoned lots, in open fields, near construction sites, and along railroad tracks. Report Illegal Dumping. It's a crime.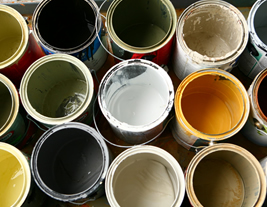 Proper Disposal
There is a place for everything in Franklin County. Learn how to properly dispose of materials and keep harmful substances out of our environment.
Learn About Proper Disposal
The Environmental Crimes Task Force
The Environmental Crimes Task Force of Central Ohio is made up of representatives from Franklin County Public Health, the Franklin County Prosecutor's Office, the Franklin County Sheriff's Office and the City of Columbus Division of Refuse and is funded by the Solid Waste Authority of Central Ohio (SWACO). The unit works together to investigate reports of littering and illegal dumping.
Trash and tire piles present the ideal living and breeding environment for rats, mice and other rodents, ticks, flies and mosquitoes that, in many cases transmit disease. In addition, illegally dumped material presents the risk of physical injury resulting from contact with broken glass, sharp metal, biological and chemical waste.
Many materials that are illegally dumped contain toxic or hazardous substances that can threaten surface or groundwater supplies. Trash and especially tires that catch fire can cause air pollution that may harm the health of persons exposed to the fumes while also damaging the environment. Decaying garbage and yard waste dumped in residential areas create unpleasant odors and can contribute to the impression that the entire neighborhood is in decline, thus negatively impacting property values. Research has shown that such conditions also lead to higher crime rates.
Often the property owners are unaware that the dumping is occurring on their property. However, the property owner is ultimately responsible for proper disposal of any solid waste deposited on his/her property.
To learn more about the agencies that make up the Environmental Crimes Task Force unit please visit the below websites: